| | |
| --- | --- |
| Bíblia e Arqueologia - The Bible Unearthed | |
FINKELSTEIN, I.; SILBERMAN, N. A. The Bible Unearthed: Archaeology's New Vision of Ancient Israel and the Origin of Its Sacred Texts. New York: The Free Press, 2001, xii + 385 p. - ISBN 9780684869124 - Hardcover; ISBN 9780684869131 - Paperback, 2002.
Israel Finkelstein foi o Diretor do Instituto de Arqueologia Sonia e Marco Nadler da Universidade de Tel Aviv, Israel, de 1996 a 2002. Atualmente, 2005, é o titular da Cátedra Jacob M. Alkow de Arqueologia de Israel nas Idades do Bronze e do Ferro da mesma Universidade, e acaba de ganhar, com Graeme Barker, o prêmio Dan David, de 1 milhão de dólares. Neil Asher Silberman foi Diretor de Interpretação Histórica do Ename Center for Public Archaeology and Heritage Presentation, na Bélgica e atualmente [2011] é Professor do Departamento de Antropologia da Universidade de Massachusetts- Amherst, Estados Unidos.
Este livro, A Bíblia Desenterrada: Uma Nova Visão Arqueológica do Antigo Israel e da Origem de seus Textos Sagrados [o título da tradução brasileira é: A Bíblia não tinha razão], foi pensado como um instrumento para que o leitor leigo, mas interessado no assunto, possa ter acesso a um panorama atualizado do que seus autores acreditam ser evidências arqueológicas e históricas indispensáveis para uma nova compreensão do nascimento do antigo Israel e a emergência de seus textos históricos sagrados.
Escrita por dois especialistas de reconhecida competência nos campos da arqueologia e da história, a obra defende que os estudiosos devem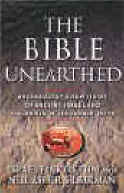 atualmente abordar os problemas das origens da Bíblia e da sociedade israelita antiga a partir de uma perspectiva inteiramente nova. Assim, Finkelstein e Silberman se propõem reconstruir uma história bem diferente do antigo Israel, deixando aos leitores o julgamento sobre a validade desta reconstrução.
Ou, como dizem na p. 3: "Este livro quer contar a estória do antigo Israel e o nascimento de suas escrituras sagradas a partir de uma nova perspectiva arqueológica. Nosso objetivo será tentar separar história de lenda. Através da evidência de descobertas recentes, nós construiremos uma nova história do antigo Israel na qual alguns dos mais famosos eventos e personalidades mencionados na Bíblia exercem funções bastante inesperadas. Mas o nosso propósito, em última instância, não é simplesmente desconstrutivista. Nosso propósito é partilhar as mais recentes descobertas - ainda grandemente desconhecidas fora dos círculos acadêmicos - não somente sobre o quando, mas também sobre o porquê a Bíblia foi escrita e porque ela continua tão poderosa ainda hoje".
E o que dizem as descobertas recentes da arqueologia? Dizem, por exemplo, que, apesar da narrativa bíblica, não há sinais de monoteísmo na época de Abraão, que não existe nenhuma evidência de um êxodo do Egito, que a história de uma conquista da terra de Canaã pelos hebreus não é sustentável e que jamais existiu um império davídico-salomônico.
Fundamentados em décadas de pesquisas arqueológicas realizadas em Israel, Jordânia, Egito, Líbano e Síria, os autores examinam os principais livros "históricos" da Bíblia, especialmente a Torá (= o Pentateuco) e Os Profetas Anteriores (= a Obra Histórica Deuteronomista), que narram a saga do povo de Israel desde o seu começo até o exílio babilônico em 586 a.C.
Dizem eles na p. 8: "Nós comparamos esta narrativa com a riqueza dos dados arqueológicos que foram coletados nas últimas décadas. O resultado é a descoberta de uma relação fascinante e complexa entre o que realmente aconteceu na terra da Bíblia durante o período bíblico (...) e os conhecidos detalhes da elaborada narrativa histórica que a Bíblia Hebraica contém."
Finkelstein e Silberman sustentam que a arqueologia hoje dá suporte à hipótese de que tanto o Pentateuco quanto a Obra Histórica Deuteronomista foram escritos no século sétimo a.C. E explicam: "Nós focalizaremos o Judá do final do século oitavo e do século sétimo AEC [= "Antes da Era Comum" o mesmo que a.C. "antes de Cristo"], quando este processo literário começou para valer, e defenderemos que boa parte do Pentateuco é uma criação da monarquia recente para defender a ideologia e as necessidades do reino de Judá e que, como tal, ele está intimamente ligado à História Deuteronomista. E nos alinharemos com aqueles estudiosos que argumentam que a História Deuteronomista foi compilada, principalmente, no tempo do rei Josias [640-609 AEC], para oferecer uma legitimação ideológica para ambições políticas e reformas religiosas específicas" (p. 14).
Emendando, ainda na Introdução, na p. 23: "A razão disto ser assim e o que isto significa para a nossa compreensão da grande saga bíblica é o assunto central deste livro".
Recomendo a obra como guia seguro para todos aqueles que queiram ficar a par das pesquisas atuais na área da História de Israel. Leia minha resenha aqui.
A GREAT BOOK FOR AN OPEN MIND

This attractive book contains 12 chapters in three parts, an epilogue, 7 appendixes, a bibliography, an index of names and places, besides the traditional prologue and introduction. Owners of refined prose, the authors take the reader carefully by the hand and guide him in a fascinating adventure through the world of ancient Israel.

In the last years the archaeological controversy on the biblical subject grew a lot, besides with personal accusations of political motivations, involving the current conflict between Israel and the Palestinian. Was there an Exodus? Did a conquest of Canaan exist? Did David and Solomon rule over a great empire? Questions like these have attracted journalists, arrived to the great public and created polemic theological debates, resulting even in discussions about the religious faith of this or of that scholar. To Finkelstein & Silberman this imposed the need of the writing of this book.

The authors' proposal: to do a reassessment of the discoveries of the oldest excavations and of the continuous discoveries done by the new archaeological excavations in Palestine, which make clear that the scholars now should approach the problems of the biblical origins and of the ancient Israelite society of a new perspective, completely different from the previous and to reconstruct a history of ancient Israel very different from the habitual ones.

Which is the central thesis of Finkelstein & Silberman?

The authors propose that the world where the Bible was born was that of Jerusalem of King Josiah Reform in the seventh century BCE. For Finkelstein & Silberman the archaeology offers today enough evidence to support this new proposal. A proposal that says to have been the historical core of the Pentateuch and the Deuteronomistic History shaped in the seventh century BCE, in defense of the ideology and needs of the kingdom of Judah, providing validation for particular political ambitions and religious reforms.

This doesn't imply, for the authors, that ancient Israel had no genuine history, nor that the biblical narratives should be discarded, but that, assisted by archaeological finds and by the extrabiblical records, "we will see how the biblical narratives are themselves part of the story, not the unquestioned historical framework into which every particular find or conclusion must fit" (p. 23).

The Bible is, in this perspective, a characteristic artifact that, together with the pottery, the architecture and the inscriptions, helps us to understand the society in which it was produced.

I recommend this book as safe guide for all that want to be informed on the current researches of the History of Israel. The book is today a bestseller!
Resenha escrita para a Amazon.com em 03.01.2003
---
Traduções já publicadas:
Em alemão: Keine Posaunen vor Jericho: Die archäologische Wahrheit über die Bibel. München: C. H. Beck, [2002] 2006, 381 p. - ISBN 9783406555312. Disponível também na Amazon.de.
Em árabe: Cf. aqui, 2007.
Em coreano: Songgyong: kogohak in'ga chonsol in'ga. Soul-si: Kkach`i, 2002, 439 p. - ISBN 9788972913412. Cf. aqui.
Em espanhol: La Biblia Desenterrada: Una nueva visión arqueológica del Antiguo Israel y de los origenes de sus textos sagrados. 2. ed. Madrid: Siglo XXI, [2003] 2006, 437 p. - ISBN 9788432311246. Disponível também na Amazon.com.
Em francês: La Bible dévoilée: Les nouvelles révélations de l'archéologie. Montrouge: Bayard Editions, 2002; Paris: Gallimard: 2004, 554 p. - ISBN 9782070429394. Disponível também na Amazon.fr.
Em italiano: Le tracce di Mosè: La Bibbia tra storia e mito. Roma: Carocci, 2002 [4. ristampa 2007], 412 p. - ISBN 9788843021307.
Em japonês: Tóquio, 2009. Cf. aqui.
Em hebraico: Reshit Yisrael Arkheologyah Mikra Ve-Zikaron Histori. Tel Aviv: Universiṭat Tel Aviv, 2003, 384 p. - ISBN 9657241022. Cf. aqui.
Em holandês: De Bijbel als mythe: opgravingen vertellen een ander verhaal. Den Haag: Synthese Uitgeverij, 2006, 448 p. - ISBN 9789062719518.
Em polonês: Cf. aqui.
Em português: A Bíblia Não Tinha Razão. São Paulo: A Girafa, 2003, 515 p. - ISBN 8589876187.
Em tcheco: Praga, 2007. Cf. aqui.
---
Uma apresentação da obra, feita pelos próprios autores, pode ser lida na revista The Bible and Interpretation aqui.
The Hebrew edition of the book by Finkelstein and his American colleague, the historian and archaeologist Neil Asher Silberman, "The Bible Unearthed: Archaeology's New Vision of Ancient Israel and the Origin of Its Sacred Texts" has just been published. ( ...)
As a child, Prof. Finkelstein, 54, didn't dream of becoming an archaeologist and didn't collect shards of broken vases in order to glue them back together. After his army service he applied to study international relations and political science at Hebrew University and, for good measure, to study archaeology and geography at Tel Aviv University.

"It transpired like many things in life," he says. "I didn't fall in love with archaeology at first sight. It grabbed me slowly and surely, until finally I decided to do a second degree."

He also obtained his Ph.D. at Tel Aviv University and then went on to teach and conduct research at the University of Chicago, Harvard and the Sorbonne. Professionally, he is today in the forefront of the group of excavators at Megiddo (together with Profs. David Ussishkin of Tel Aviv University and Baruch Halpern of Penn State).
(...) Finkelstein doesn't want people to think that he is being deliberately provocative, that he only wants good headlines.

"I am not some kind of yuppie nihilist," he emphasizes. He was born in Petah Tikva and grew up in a farming family. His mother's family came to Palestine in 1860, his father's family eight decades ago. "So what will I do, leave? Where am I supposed to go? To Grodno? I don't want to go there," he says. "Maybe it's quiet and pleasant in Boston or Paris, but if you live here, then you at least have to be part of the ongoing historical experience and understand its power. If you live here only for the parties on the beach on Thursday night, then it would be better if you didn't live here, because this is a dangerous place. Anyone who thinks that Tel Aviv is a type of Goa has missed the point completely." Da entrevista do Ha'aretz, maio de 2003.
Dezenas de resenhas, feitas pelos leitores - inclusive por mim, com o título de A Great Book for an Open Mind - podem ser lidas na própria Amazon.com.
Este livro está também em minha lista de livros sobre História de Israel na Listmania da Amazon.com.
E uma resenha, um pouco mais longa do que o padrão, porque estou pensando também naqueles que não têm acesso à obra, foi escrita...
Home Page de Israel Finkelstein: http://isfn.skytech.co.il/ Cf. também: http://www.tau.ac.il/humanities/archaeology/directory/dir_israel_finkelstein.html
Veja ainda: The Bible Unearthed de Finkelstein e Silberman vira filme. Isto aconteceu em 2006! E: The Bible Unearthed em DVD: agora no Brasil (15.12.2007)
| SUMÁRIO | CONTENTS |
| --- | --- |
| Prólogo: Nos Dias do Rei Josias | Prologue: In the Days of King Josiah |
| Introdução: A Arqueologia e a Bíblia | Introduction: Archaeology and the Bible |
| PARTE I: A Bíblia como História? | PART ONE: The Bible as History? |
| 1. Procurando os Patriarcas | 1. Searching for the Patriarchs |
| 2. O Êxodo Aconteceu? | 2. Did the Exodus Happen? |
| 3. A Conquista de Canaã | 3. The Conquest of Canaan |
| 4. Quem eram os Israelitas? | 4. Who Were the Israelites? |
| 5. Memórias de uma Idade de Ouro? | 5. Memories of a Golden Age? |
| PARTE II: A Ascensão e Queda do Antigo Israel | PART TWO: The Rise and Fall of Ancient Israel |
| 6. Um Estado, Uma Nação, Um Povo? (ca. 930-720 AEC) | 6. One State, One Nation, One People? (c. 930-720 BCE) |
| 7. O Esquecido Primeiro Reino de Israel (884-842 AEC) | 7. Israel's Forgotten First Kingdom (884-842 BCE) |
| 8. À Sombra do Império (842-720 AEC) | 8. In the Shadow of Empire (842-720 BCE) |
| PARTE III: Judá e a Elaboração da História Bíblica | PART THREE: Judah and the Making of Biblical History |
| 9. A Transformação de Judá (ca. 930-705 AEC) | 9. The Transformation of Judah (c. 930-705 BCE) |
| 10. Entre Guerra e Sobrevivência (705-639 AEC) | 10. Between War and Survival (705-639 BCE) |
| 11. Uma Grande Reforma (639-586 AEC) | 11. A Great Reformation (639-586 BCE) |
| 12. Exílio e Volta (586-ca. 440 AEC) | 12. Exile and Return (586-c. 440 BCE) |
| Epílogo: O Futuro do Israel Bíblico | Epilogue: The Future of Biblical Israel |
| Apêndice A: Teorias sobre a Historicidade da Época Patriarcal | Appendix A: Theories of the Historicity of the Patriarchal Age |
| Apêndice B: Procurando pelo Sinai | Appendix B: Searching for Sinai |
| Apêndice C: Teorias Alternativas sobre a Conquista Israelita | Appendix C: Alternative Theories of the Israelite Conquest |
| Apêndice D: Por que a Arqueologia Tradicional do Período Davídico-Salomônico está Errada | Appendix D: Why the Traditional Archaeology of the Davidic and Solomonic Period is Wrong |
| Apêndice E: Identificando a Era de Manassés no Testemunho Arqueológico | Appendix E: Identifying the Era of Manasseh in the Archaeological Record |
| Apêndice F: Qual era o Tamanho do Reino de Josias? | Appendix F: How Vast Was the Kingdom of Josiah? |
| Apêndice G: As Fronteiras da Província de Yehud | Appendix G: The Boundaries of the Province of Yehud |
| Bibliografia | Bibliography |
| Índice | Index |
Debate entre Finkelstein e Stager em 10 de junho de 2003
The Archaeology and History of David and Solomon: The Great Debate
A lively debate of the ancient Israelite state controversy by two pre-eminent scholars, Profs. Finkelstein and Stager.
O tema
Israel Finkelstein, Professor of Archaeology and Director of the Institute of Archaeology at Tel Aviv University, will defend his proposed 'low chronology' which suggests David and Solomon ruled at a time when the United Monarchy did not yet have the resources to administer a fully developed state.

Taking a more traditional view, Lawrence Stager, Dorot Professor of the Archaeology of Israel at Harvard University, will seek to prove that there could well have been a centrally-administered society under David and Solomon, complete with the international trade and monumental architecture that are hallmarks of a developed state.

The discussion will center on the following questions: Was there a David? Who was Solomon? What can we know about the origins of the ancient Israelite state from archaeology? How do the Bible and archaeology in the Middle East intersect?
Os debatedores
Dr. Israel Finkelstein is Professor of Archaeology at Tel Aviv University. He is the author, with Neil Silberman, of The Bible Unearthed: Archaeology's New Vision of Ancient Israel and the Origin of its Sacred Texts. Dr. Lawrence Stager is Dorot Professor of the Archaeology of Israel in the Department of Near Eastern Languages and Cultures at Harvard University. He supervises excavations at the site of Ashkelon in Israel and is the author, with Philip King, of Life in Biblical Israel.
Local e data
1:00-4:30pm - Sunday, June 1st, 2003 - Moore Hall, Room 100 - UCLA campus - Los Angeles, CA
O debate está sendo promovido pela ASOR (American Schools of Oriental Research) e outras instituições.
Sobre o debate
Tammi J. Schneider forneceu à lista de discussão Ancient Near East, em 17.06.2003, as seguintes informações sobre o debate:
(...) A crowd of over three hundred people attended The Great Debate. Opening
the session, Tammi Schneider laid out the basic issues in the discussion
and the sources of information available to us. Larry Stager followed
with a critique of Finkelsteinís efforts to destroy the traditional
chronology by highlighting the damage such an approach does to the our
present understanding of the chronology of Iron Age Israel and the gaps
that would ensue based on his theory. Finkelstein countered by
dismantling the basis for the connection between the gates of Megiddo,
Hazor and Gezer with Solomon and introducing his low chronology as a
replacement. The second part of the afternoonís event featured each
debater posing questions to the other, who had three minutes to respond.
Issues raised concern C-14 dating and the labs used, the role of
Shishak and Hazael and what one can know of their destructions
archaeologically, and red-burnished pottery. Each participant then had
fifteen minutes to sum up their position before the audience posed questions.

The winner of the debate was clearly the audience. Finkelstein and
Stager gave it their all, both in terms of scholarship and showmanship.
ASOR also came out ahead, having presented some of its finest
scholarship to the public and forging important relationships that we
hope will continue with the Cotsen Institute of Archaeology and the
general public.
---
Colloquium '05: Digging for the Truth: Archaeology and the Bible
Debate entre Finkelstein e Mazar em livro
Oct. 21-23 at the Birmingham Temple in Farmington Hills, Michigan, USA
Professors Israel Finkelstein of Tel Aviv University and Amihai Mazar of Hebrew University of Jerusalem, in dialogue and discussion with a panel of biblical scholars and a lay audience.
What? No Moses? Did the Exodus from Egypt really take place? Who wrote the Torah? Did Abraham, Isaac and Jacob ever exist?
"There has been an overwhelming interest in biblical archaeology, but while there is a lot of excitement, there has not been a lot of information," explained Rabbi Sherwin T. Wine, dean of the International Institute for Secular Humanistic Judaism (IISHJ) in the United States and founding rabbi of the Birmingham Temple. What does biblical archaeology have to say about the biblical reliability, about all the basic stories of Jewish history? Is there an alternative history based on archaeology?" Israel Finkelstein and Amihai Mazar will explore the answers.
---
PARA SABER MAIS
DA SILVA, A. J. A história de Israel na pesquisa atual. Estudos Bíblicos, Petrópolis, n. 71, p. 62-74, 2001.
DA SILVA, A. A História de Israel na Pesquisa Atual. In: FARIA, J. F. (org.) História de Israel e as pesquisas mais recentes. 2. ed. Petrópolis: Vozes, 2003, p. 43-87, - ISBN 8532628281.
DA SILVA, A. J. A História de Israel no Debate Atual. Ayrton's Biblical Page, 2011.
DA SILVA, A. J. A origem dos antigos Estados israelitas. Estudos Bíblicos, Petrópolis, n. 78, p. 18-31, 2003.
DA SILVA, A. J. O Pentateuco e a História de Israel. In: Teologia na pós-modernidade. Abordagens epistemológica, sistemática e teórico-prática. São Paulo: Paulinas, [2003] 2007, p. 173-215.
DA SILVA, A. J. Pode uma 'História de Israel' Ser Escrita? Observando o debate atual sobre a História de Israel. Ayrton's Biblical Page, 2011.
DA SILVA, A. J. The History of Israel in the Current Research. Journal of Biblical Studies 1:2, Apr.-Jun. 2001.
DAVIES, P. R. In Search of 'Ancient Israel'. London: T. & T. Clark, [1992] 2005, 166 p. - ISBN 9781850757375.
DAVIES, P. R. On the Origins of Judaism. London: Equinox Publishing, 2008, 224 p. - ISBN 9781845533267.
DAVIES, P. R. The Origins of Biblical Israel. London: T & T Clark, 2007, 192 p. - ISBN 9780567043818.
FINKELSTEIN, I.; MAZAR, A. The Quest for the Historical Israel: Debating Archaeology and the History of Early Israel. Atlanta: Society of Biblical Literature, 2007, 220 p. - ISBN 9781589832770. Disponível online.
FINKELSTEIN, I.; SILBERMAN, N. A. David and Solomon: In Search of the Bible's Sacred Kings and the Roots of the Western Tradition. New York: The Free Press, 2006, 349 p. - ISBN 9780743243629 (Hardcover) - ISBN 9780743243636 (Paperback, 2007).
FRITZ, V.; DAVIES, P. R. (eds.) The Origins of the Ancient Israelite States. Sheffield: Sheffield Academic Press, 1996, 168 p. - ISBN 9781850757986.
GOTTWALD, N. K. As Tribos de Iahweh: Uma Sociologia da Religião de Israel Liberto, 1250-1050 a.C. 2. ed. São Paulo: Paulus, 2004, 939 p. - ISBN 8534922330.
GRABBE, L. L. Ancient Israel: What Do We Know and How Do We Know It? London: T & T Clark, 2007, 328 p. - ISBN 9780567032546.
GRABBE, L. L. (ed.) Can a 'History of Israel' Be Written. Sheffield: Sheffield Academic Press, 1997, 201 p. [T. & T. Clark: 2005 - ISBN 0567043207].
LEMCHE, N. P. The Israelites in History and Tradition. Louisville: Kentucky, Westminster John Knox, 1998, ix + 246 p. - ISBN 9780664220754.
LIVERANI, M. Nuovi sviluppi nello studio della storia dell'Israele biblico. Biblica, Roma, n. 80, p. 488-505, 1999.
LIVERANI, M. Para além da Bíblia: História antiga de Israel [Oltre la Bibbia]. São Paulo: Loyola/Paulus, 2008, 544 p. - ISBN 9788515035557.
LIVERANI, M. (org.) Recenti tendenze nella ricostruzione della storia antica d'Israele. Roma: Accademia Nazionale dei Lincei, Distribuidor: Bardi Editore. 2005, 202 p. - ISBN 8821809331.
THOMPSON, T. L. The Mythic Past: Biblical Archaeology and the Myth of Israel. New York: Basic Books, 1999, 436 p. - ISBN 9780465006496.
WILLIAMSON, H. G. M. (ed.) Understanding the History of Ancient Israel. Oxford: Oxford University Press, 2007, 452 p. - ISBN 9780197264010.
---
Copyright © 1999-2013 Airton José da Silva. Todos os direitos reservados. Mapa do Site - Sitemap.